One Scottsdale - New Dining and Retail coming to North Scottsdale
If you live in Grayhawk, Silverstone or any other area of North Scottsdale and travel up and down Scottsdale Road you have certainly seen the new construction at Legacy and Scottsdale Road. Have you asked yourself, what is going in there, or When will that be finished? Well, read further to answers to both those questions. What is going in 75 acre retail, dining, hotel and residential development aptly named One Scottsdale.
One Scottsdale is a master plan commercial development by Scottsdale based DMB Development. One Scottsdale will include the area along Scottsdale Road just North of Loop 101 between Legacy and Thompson Peak, as well the area just East of Scottsdale Road South of Legacy.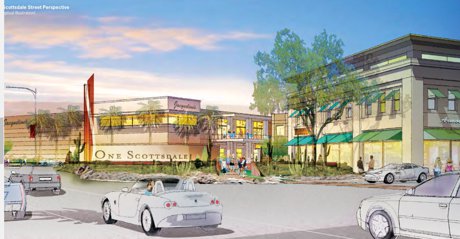 The first portion of One Scottsdale, a Hilton Homes2Suite hotel will is scheduled to be completed by the end of the 2022. The first of the retail and dining should be completed in the early part of 2023. It will be a great addition to North Scottsdale to have more shopping and dining options North of the Loop 101.
While the first dining and retail options will option in early 2023, the balance of One Scottsdale will be built out over the 7 to 10 years. The larger portion of development South of Legacy will include New luxury Condos, Portico. Portico has recently began sales to great fanfare, these luxury condos will be a great addition to the North Scottsdale Real Estate.
The Dahl Real Estate Group is the local Scottsdale expert to call when buying or selling your next Scottsdale Home or Condo. We offer over 30 years of Experience and Over $1 Billion in Real Estate Sales. Give us a call 480-630-3888 and lets start a conversation about your Scottsdale Real Estate Needs.